VpCI® Technology for Food, Beverage, and Pharmaceutical Industries

The food, beverage, and pharmaceutical industries are some of the most important industries in the world economy according to their production extent, their number of consumers, and their economic and social significance. Technological advances in food processing, equipment, and production plants are growing rapidly—yet corrosion is a costly issue that impacts these industries. The economic effect of corrosion is the loss of billions of dollars that companies are saddled with every year.
For companies involved in the food, beverage, and pharmaceutical industries, corrosion prevention is non-negotiable. In these manufacturing industries, corrosion can derail an entire operation, causing enormous financial losses and, far worse, dangerous accidents.
Corroding equipment requires costly repairs and can contaminate the product it contains. Unique challenges faced by food, beverage, and pharmaceutical industries must be addressed with extreme cautiousness by experienced professionals.
Very complex technical systems used by manufacturers of food or pharmaceutical products require reliable protection. Not only must the legal requirements for hygiene be adhered to, but occupational health and safety guidelines as well.
Advances in the food industry, such as preservation, packaging, and storage, facilitate food delivery and minimize health hazards. Among other materials, aluminum, tin, copper, titanium, and mainly stainless steel are widely used in these industries for the manufacture of processing, production, storage, and transportation equipment and machinery. Thankfully, modern science has developed new corrosion protection methods such as patented Vapor phase Corrosion Inhibitors (VpCIs) that enable these very delicate industries to safely protect their systems from this destructive force of corrosion.
FOOD INDUSTRY CORROSIVE ENVIRONMENTS
Three types of cleaning and sanitation agents are applied in the food industry, creating corrosive environments:
1. Alkaline: such as caustic soda (NaOH), alkali phosphates (Na3PO4), sodium carbonate and bicarbonate (Na2CO3, NaHCO3)
2. Acidic: phosphoric, citric, and sulphamic acids
3. Oxidizers: chlorine, nitric acid, ozone, hypochlorite,hydrogen peroxide (H2O2)
THE CORTEC® BIO PRODUCTS VISION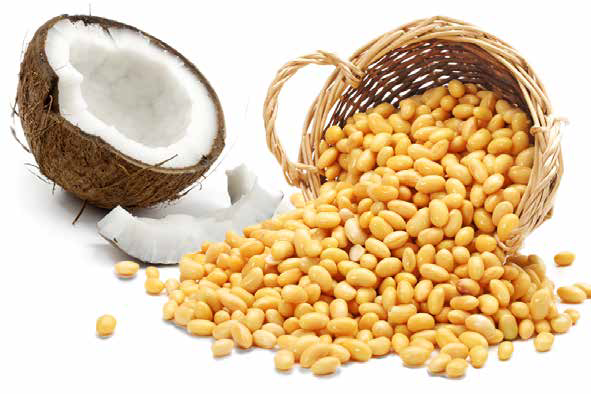 Cortec® will continuously improve the environmental performance of our products and processes to provide a better world for future generations. The cornerstone of Cortec's history and future is based on the production of superior products to protect various metals from rust and corrosion. Our products exemplify Cortec's long-standing commitment to conserve our natural resources.
We take the responsibility of conserving our natural resources seriously—we develop Cortec® products from annually renewable materials such as herbaceous plants like soybeans and coconut fruit from the palm tree species.
Cortec® offers a wide range of environmentally safe corrosion protection products that are USDA, FDA,
and NSF compliant* and represent the best solution on the market for food and pharmaceutical industries.
Cortec's VpCI® inhibitors are created in science laboratories by chemists and engineers utilizing the latest
technologies to provide contemporary, safe, and economical solutions for the food, beverage, and pharmaceutical
industries.
THE FOOD INDUSTRY
Food industry plants involved in the processing and packaging of products must preserve capital investments and minimize operation costs. At the same time, physicochemical characteristics of processed foods give them different grades of corrosivity depending on content type.
Processed foods contain diverse aqueous solutions, syrups, and additives used to improve food appearance, quality, and preservation. They have a wide pH range and varying salt, water, and vinegar contentthat impact food corrosivity. Many cleaning and sanitation agents are employed to remove bacteria, scale,fouling, and corrosive biological and mineral deposits. They include alkaline, acidic, strong or weak oxidizingand reducing chemicals to ensure a high hygiene level. This great variety of corrosive environments andaggressive chemical agents requires smart corrosion protection.
Cortec® VpCI® Technology is the obvious choice for the food industry to prevent equipment damage and
food contamination. VpCIs may be used in the food industry to protect cans, water tank containers, and
exteriors of installations made with carbon and galvanized steel, concrete, or wood.
Cortec's Rust Preventative Receives Eu Trademark Approval Featured in Food and Beverage Magazine!
Cortec® Corporation proudly announces that its biobased and biodegradable rust preventative -BioCorr® has received registered trademark approval from EU's Office of Harmonization. BioCorr® is a water based, ready to use formulation intended for preservation of metals in storage and during transportation. This innovative solution is formulated with renewable raw materials and contains 64% biobased content. It provides multi-metal corrosion protection by combining film-forming additives with Vapor phase Corrosion Inhibitors (VpCI®s).
BioCorr® is an environmentally sound alternative to hazardous petroleum derived products. This ready-to-use formulation can provide protection for up to two years of indoor storage or during shipments.  Unlike rust preventative oils, water-based BioCorr® leaves a dry film on the surface of the metal that is virtually undetectable. This feature helps to create a clean workplace and prevent material waste.
BioCorr® is VOC free and it's biodegradable formulation enables eliminating expensive disposal costs associated with hazardous mineral oils and flammable solvents.  BioCorr® does not contain any chlorinated compounds, chromates, or nitrites. It has been awarded USDA BioPreferredSM designation.
TYPICAL APPLICATIONS
• Biodegradable preservative for machines and equipment
• Temporary coating for storage and shipment
• Protection of pipes, flanges, gears
• Cast iron, sheets, and coils
Daughter company of global manufacturer "Daido Metal" was experiencing corrosion problems during exporting of automotive parts using sea going containers.  The end users of bearings, bushings and thrust washers are engine producers: Volvo and Ford. Time in transit from manufacturer's location in Montenegro to the engine assembly plants is typically  2-4 months.  The traditional rust inhibiting oils did not prevent oxidation and pitting of the special aluminum alloy used to produce these high-tech engine components.  This resulted in significant losses from production delays and rejected parts.
The customer tested BioCorr® in their laboratory with promising results and a pilot plant trial was initiated. This prompted the customer's decision to implement a plant-wide, full scale implementation of BioCorr® to replace rust inhibiting oils. Corrosion problems during storage and shipping are solved. The bearings, bushings and thrust washers have shown no sign of corrosion, even after extended field testing up to twelve months. As a result delivered parts are oil free, dry to the touch and protected with very cost-effective method. BioCorr® also enables the company to demonstrate their clients and local community their environmental sustainability and awareness.